---
May - June 2019
Kunsthalle West, Lana (BZ)
from an idea by Ermanno Cristini,  Luca Scarabelli
Antonio Catelani, Umberto Cavenago, Ermanno Cristini, Gianluca Codeghini, Pierluigi Fresia, Giancarlo Norese, Luca Scarabelli, Roberta Segata, Marcel Zischg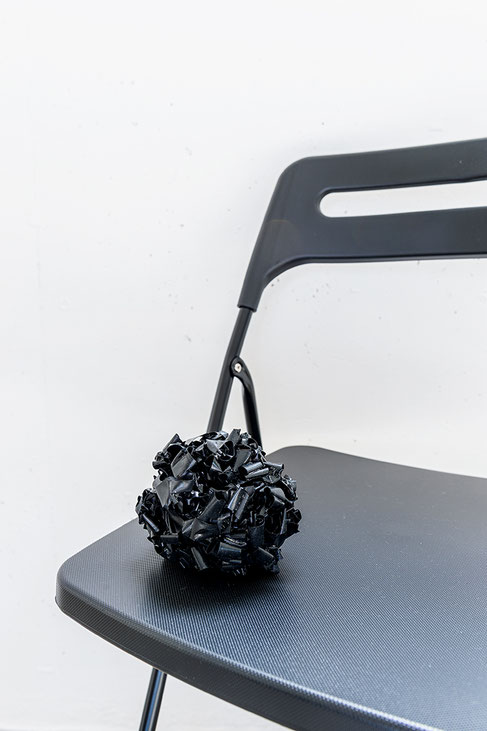 To be late nocturnal, 2019, scotch tape, chair, Kunsthalle West, Lana, ph. Ulrich Egger
---
April 2019
Kirsuberjatréð Íslensk Hönnun · Reykjavík, Islanda 
Supported by Iceland University of the Arts (LHÍ) and by Himbrimi Gin  
Andrew Birk, Dieter Roth, Ermanno Cristini, Kristján Guðmundsson, Patricia Carolina, Wendy Cabrera Rubio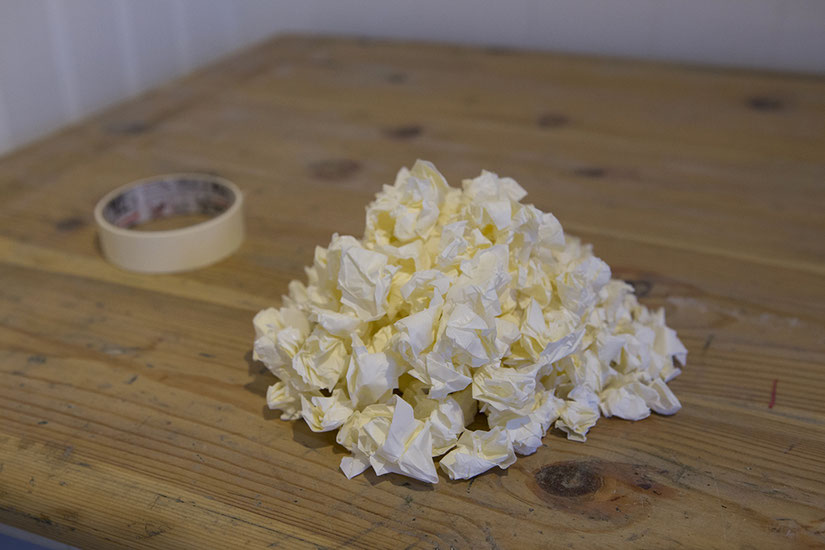 To be late roundabout (the shape of lost time - Reykjavik), 2019,  re-enacted by Ana Victoria Bruno, scotch tape, ph. Hugo-Llanes
---
---
July 2019
Madeinfilandia, Pieve a Presciano (AR)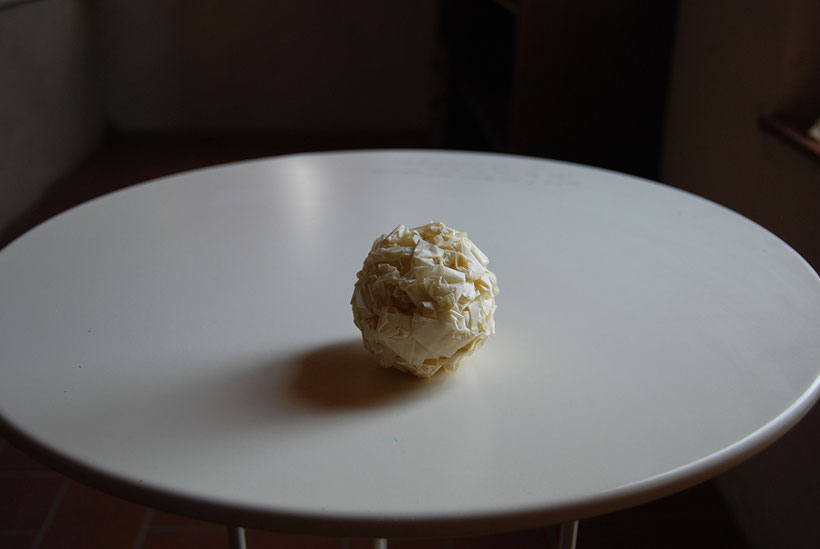 To be late (te shape of lost time in progress - Madeinfilandia,), 2019, scotch tape on table found on site
---
10th June - 30th September 2018
Casa Petrolo, Ticinallo, 1918-2018
From an idea by Ermanno Cristini with Francesca Petrolo
Susanna Janina Baumgartner, Giuseppe Buffoli, Sergio Breviario, Carlo Buzzi, Umberto Cavenago, Ermanno Cristini, Carlo Dell'Acqua, Diana Dorizzi, Al Fadhil, Ferdinando Ferrario Frerès, Serena Fineschi, Cecilia Guastaroba, Elisabeth Holzl, Sophie Ko, Sergio Limonta, Giovanni Oberti, Valentina Maggi Summo, Dario Molinari, Bruno Muzzolini, Francesca Petrolo, Corinne Seeholzer, Luca Scarabelli, Maria Stockner, Sophie Usunier, Sara Valentini, Silvia Vendramel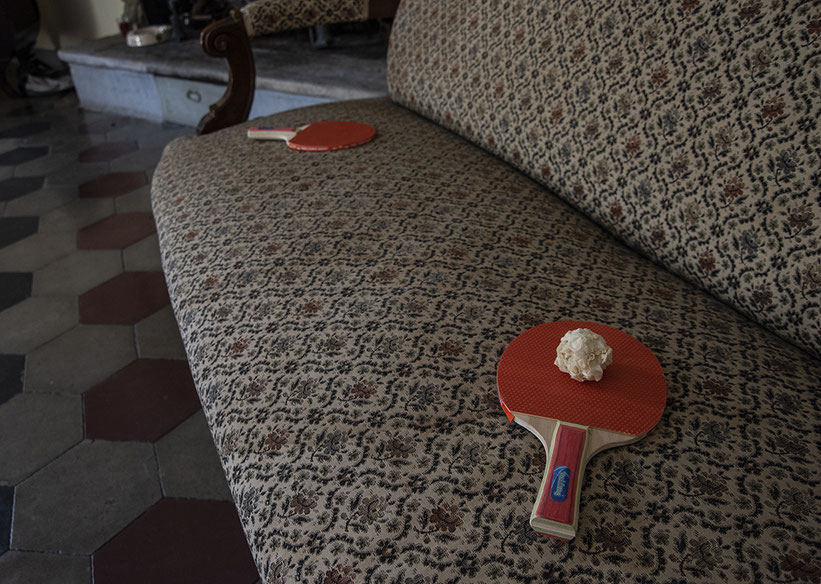 To be late (Slowly ping-pong), 2018, scotch tape and table tennis bats on sofa found on site
---
24th June - 15th July, 2018
San Rocco church, Carnago
Curated by Rossella Moratto, Luca Scarabelli
Susanna Janina Baumgartner, Cesare Biratoni, Sergio Breviario, Giuseppe Buffoli, Jacopo Casadei, Umberto Cavenago, Gianluca Codeghini, Ermanno Cristini, Francesco D'Angelo, Carlo Dell'Acqua,  Joykix, Clara Luiselli, Angelo Mosca, Giancarlo Norese, Vera Portatadino, Eva Reguzzoni, Luca Scarabelli, Marcello Tedesco, Luisa Turuani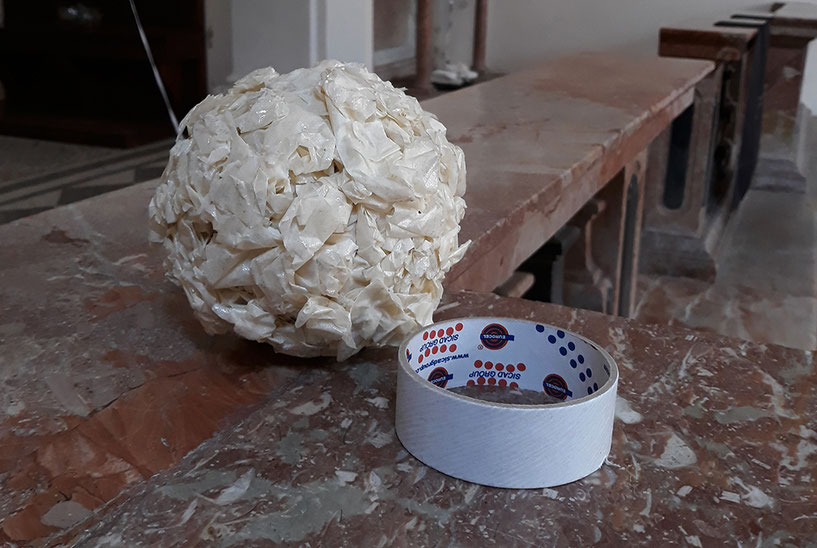 To be late vasi comunicanti (the shape of lost time - Carnago church), 2018, scotch tape on marble balustrade found on site
---
January - April 2018
Palazzo della Triennale, Milano
curated by Ermanno Cristini and Giancarlo Norese
in occasion and inside of
999. Una collezione di domande sull'abitare contemporaneo, curated by Stefano Mirti
Ermanno Cristini and Giancarlo Norese invited one artist a day for the whole period of the exhibition:  E IL TOPO (Gabriele Di Matteo, Steve Piccolo, Gak Sato et al.); Al Fadhil; Marco Giacomoni; Francesco Maria Gamba; Stefano Benini; Daniele Pario Perra - Lucia Babina; Luca Pancrazzi - Alessio de Girolamo; Silvia Hell - Gianluca Codeghini; Chiara Pergola; Silvano Repetto; Roberto de Luca; Microcollection; Giuliano Galletta - Thomas Gori; Luca Scarabelli - Valentina Petter; Helga Franza - Sophie Usunier; Giuliano Palmieri; Meinrad Feuchter; Mirko Aretini; Marika Pensa; Olivia Notaro; Matteo Cremonesi; Giovanni Bai; Fiorenza Bassetti; Paola Pietronave e Francesca Migone; Stefano Cagol; Marta Margnetti; Umberto Cavenago e Sabrina D'Alessandro; Valentina Maggi Summo; Roberto Rossini; Antonio Scarponi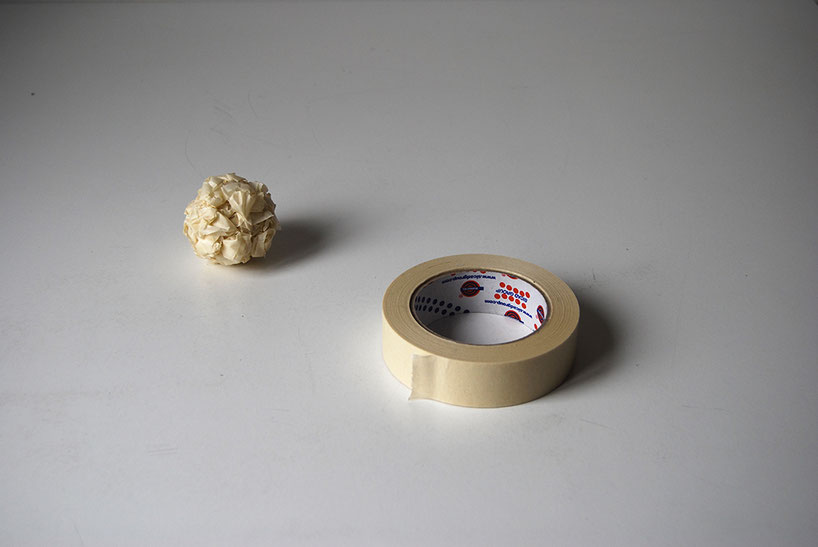 Artistic gymnastics. To be late vasi comunicanti (the shape of the lost time), 2018, scotch tape, two elements
---
November 2017
Palazzo Archinto, Milano
Curated by Silvia Hell, Helga Franza
Ermanno Cristini – artista – Mettere in flusso
Lorenzo Maccone – fisico quantistico – Il tempo della fisica quantistica
Margherita Morgantin – artista – Da 2 a X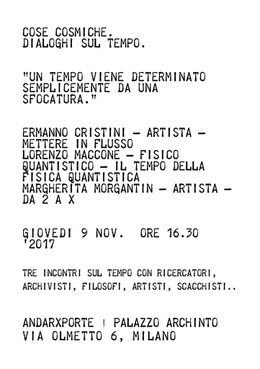 ---
October 2017
Università IUAV, Venezia, Senato degli Studenti
Per una lezione di meno / Performative Lecture #1. Sulle attitudini e sul toccare
Curated by Rachele Palma in collaboration with Lucia Bergamaschi and Francesca Filisetti
With Antonella Barina, Elena Bellantoni e Mariana Ferratto, John Cascone, Ermanno Cristini e Giancarlo Norese, Mauro Folci, Corinne Mazzoli, Chiara Mu, Cesare Pietroiusti, Pasquale Polidori,
Mariateresa Sartori, Mia D. Suppiej, Autopalo + hourinterview, Cosimo Terlizzi, Cesare Viel 
---
July 2017
Madeinfilandia, Pergine Valdarno (AR)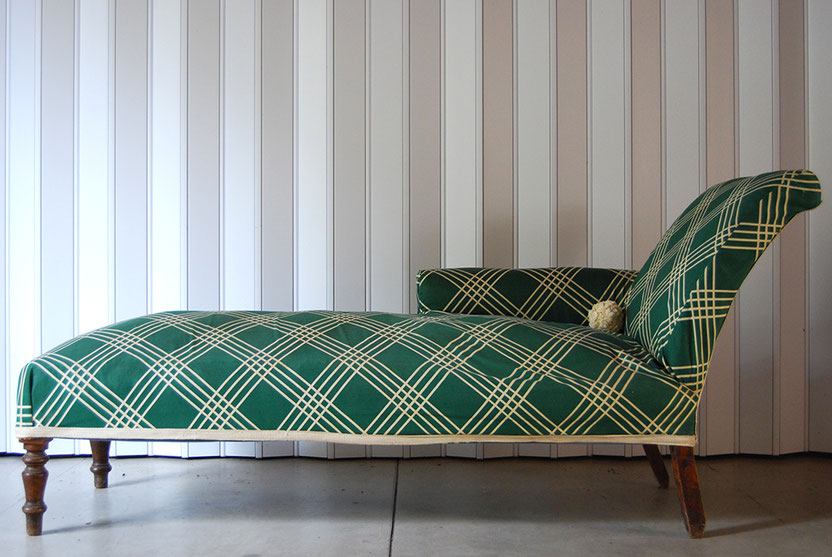 Walking the horizon. Lost/found time, 2017, scotch tape ball on armchair found on site, Madeinfilandia (AR)
---
For TUTORIAL SIRTAKI, curated by Elenena Bellantoni and Maria Ferratto
April 2017
MAXXI, Rome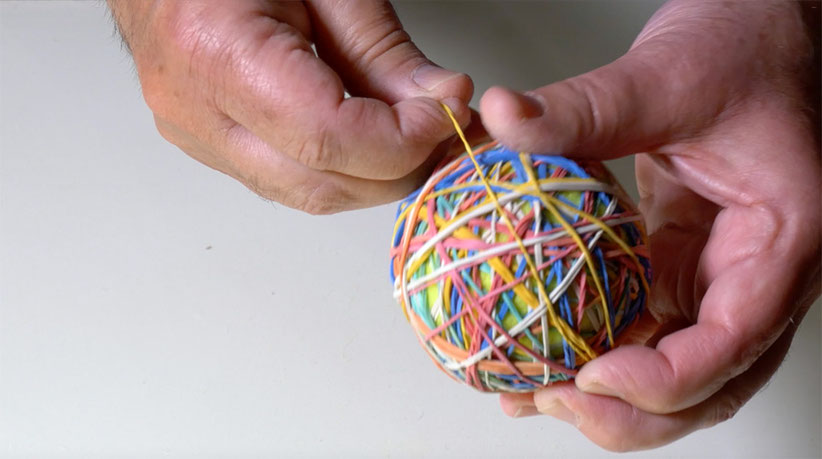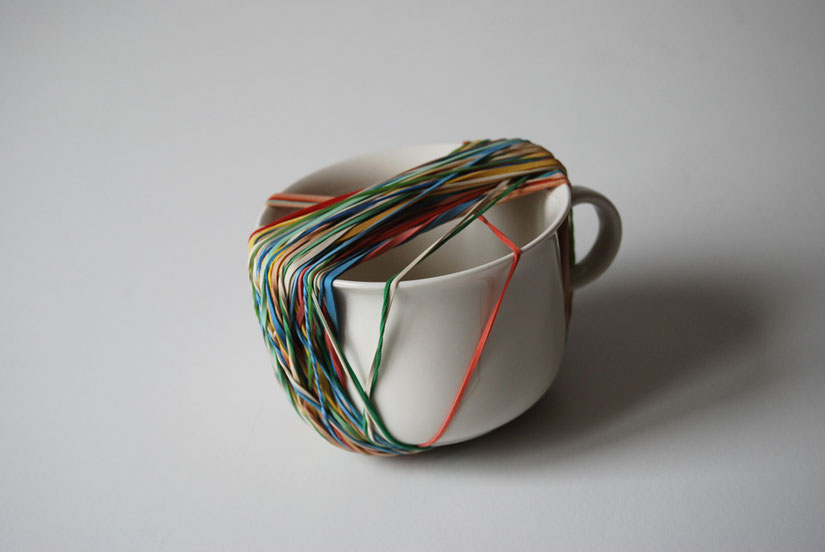 To be late with white cup one, 2016, rubber band on cup, 10x10x7 cm 
---
April 2016,
PROGR., Bern (CH)
Ermanno Cristini, Giancarlo Norese
Scriveva Walter Benjamin nei Passages che "Non bisogna far passare il tempo, ma anzi invitarlo a fermarsi presso di noi". È con questo spirito che Duchamp indica nel respirare, in opposizione al lavorare, l'essenza dell'attività creativa. Il fare artistico sta entro un ritardo e dunque si qualifica per una sottrazione: ciò che manca è il principio di economia e la dimensione utilitaria, al punto che esso si configura come uno sperpero. Così entro un'operosità reiterata senza fine si consuma una inoperosità, o più precisamente un'applicazione inoperosa, che è la sua vera cifra.
 
Abitare un ritardo è il senso di questa residenza, facendo dell'abitare l'occasione per mettere in atto delle pratiche che percorrano il tempo senza tempo dell'attesa creativa. Piccoli gesti, soste, pigrizie, lentezze, cotemplazioni, stupori, indugi, di cui raccogliere amorevolmente le tracce oziose e ozianti per sperimentare un modo di fare che è un modo di essere. Una passeggiata nella domus, per ritrovare, con Robert Walser, il piacere dell'incontro sorprendente fuori dal rapporto funzionale con il mondo.
 
In questa ginnastica improduttiva si intendono coinvolgere anche i residenti del PROGR. invitandoli a conservare e a scambiarsi con noi le tracce dei loro momenti inoperosi, e si intendono coinvolgere artisti in visita che si perderanno per un istante con noi. La raccolta delle tracce darà luogo a una mostra che si terrà nello spazio abitativo della residenza assegnata e che si presenterà come un dialogo a più voci nella condizione di tempo sospeso.
 
La residenza al PROGR. si colloca entro un percorso di iniziative dedicate alla valorizzazione dell'ozio creativo, che comprendono una mostra a Milano (Doppio stallo) alla Nowhere Gallery a partire dal 31 marzo e una lecture al Cabaret Voltaire a Zurigo il 23 aprile nel contesto di Obsession Dada.
Ermanno Cristini
Diese Residenz soll der langsam verlaufenden Zeit, die kreative Aktivitäten charakterisiert, mehr Wert verleihen. Kleine Gesten, Pausen, Faulheiten, Langsamkeiten, Betrachtungen, Verblüffungen und Verzögerungen machen das Wohnen zu einem Spaziergang durch die Domus, den Ort des Otium (Müssiggangs), um mit Robert Walser das Vergnügen neu zu entdecken, das ein überraschendes Treffen ausserhalb der funktionellen Beziehung zur Welt mit sich bringt.
 
In diese unproduktive Gymnastik sollen auch die Bewohner des PROGR.mit einbezogen werden. Sie sind eingeladen, die Spuren ihrer nicht arbeitsamen Momente zu bewahren und mit uns zu teilen, und auch Künstler, die zu Besuch sind, sollen sich gerne für ein paar Augenblicke mit uns in den Strudeln der Verspätung verlieren. Die Sammlung der Spuren aller werden zu einer Ausstellung zusammengefügt, die im Wohnraum der zugeteilten Residenz stattfinden und sich als vielstimmiger Dialog präsentieren wird.
 
Die Residenz beim PROGR. steht in einer Reihe von Initiativen, die den kreativen Müssiggang aufwerten sollen. Dazu gehören auch die Ausstellung Doppio stallo (Doppelter Stillstand) in Mailand in der Nowhere Gallery ab dem 31. März sowie eine Lesung am Cabaret Voltaire in Zürich am 23. April im Kontext von Obsession Dada.