---
Camminare l'orizzonte: l'articolo determinativo indica uno stare "dentro", e non "su". Poiché l'orizzonte è per definizione un altrove, che sfugge continuamente allo sguardo, Camminare l'orizzonte è uno stare dentro l'altrove, con quella continuità che è suggerita dall'idea stessa di linea.
Forse è lungo quella linea che si perdono sia lo sguardo del viandante di Friedrich che la rotta della barca di Jan Bas Ader perché se l'orizzonte non ha luogo il viaggio che esso chiama è un viaggio senza scopo, quel viaggio che si realizza nel viandare e che ha il naufragio come presupposto.
---
16th November 2017 - 6th January 2018
Ermanno Cristini with Alessia Armeni, Simona Barbera, Antonio Catelani, Ronny Faber Dahl, Òbelo (Claude Marzotto e Maia Sambonet). Text by Gabriele Tosi
TURNER POINT, text by Gabriele Tosi
Turner point. Gabriele Tosi.pdf
Adobe Acrobat Document
22.5 KB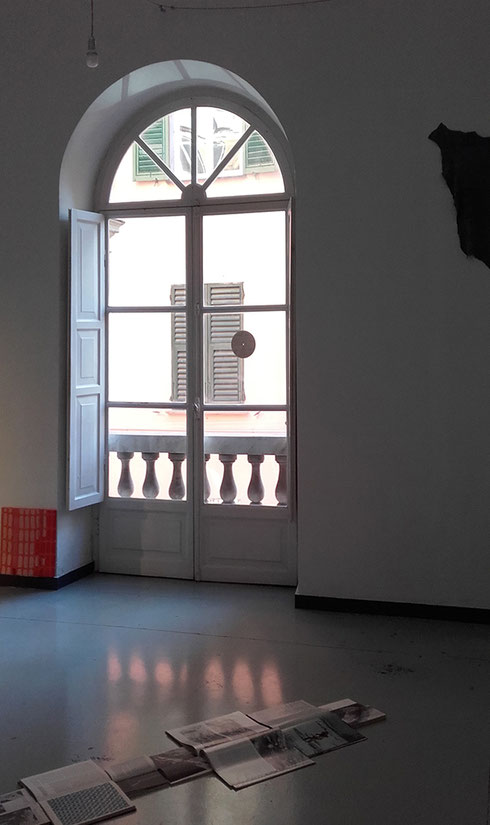 ---
Curated by Ermanno Cristini, Susanna Janina Baumgartner
Simona Barbera; Marion Baruch; Susanna Janina Baumgartner; Anna Bromley; Giovanna Caliari; Umberto Cavenago; Matteo Cremonesi; Ermanno Cristini; Ronny Faber Dahl; Debora Hirsch; Martin Larralde; Sergio Limonta;Marco Andrea Magni; Carlo Miele; Anna Pontel; Laura Santamaria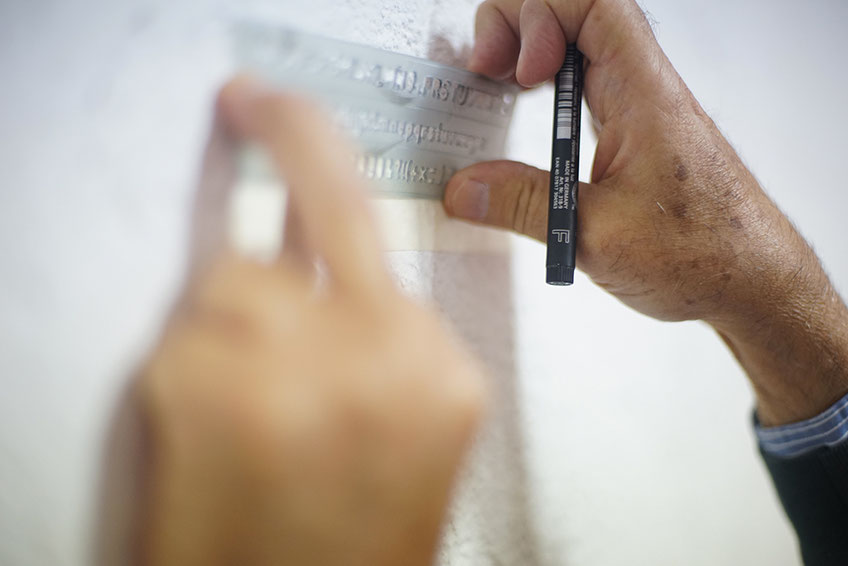 Watching the horizon watching, 2017, ink jet print on paper, pencil and scotch tape on wall, ph. Carlo Dell'acqua
---
16th July - 3th September 2017
Madeinfilandia, a project by Loris Cecchini and Luca Pancrazzi, Pieve a Presciano, Arezzo
Maura Banfo, Chiara Bettazzi, Stefano Boccalini, Loris Cecchini, Ermanno Cristini, Alessio de Girolamo, Matteo Fato, Sophie Ko, Filippo Leonardi, Luca Pancrazzi, Leonardo Pivi, Alessandra Spranzi, Giovanni Termini
Specials projects by Mattia Costa, Loredana Longo, Lorena Viale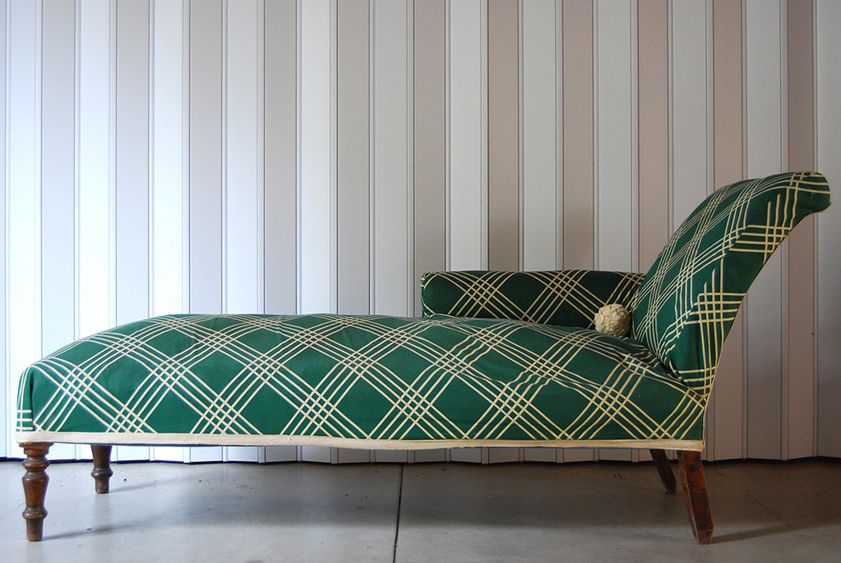 Walking the horizon. Lost/found time, 2017, scotch tape ball on armchair found on site, Madeinfilandia (AR)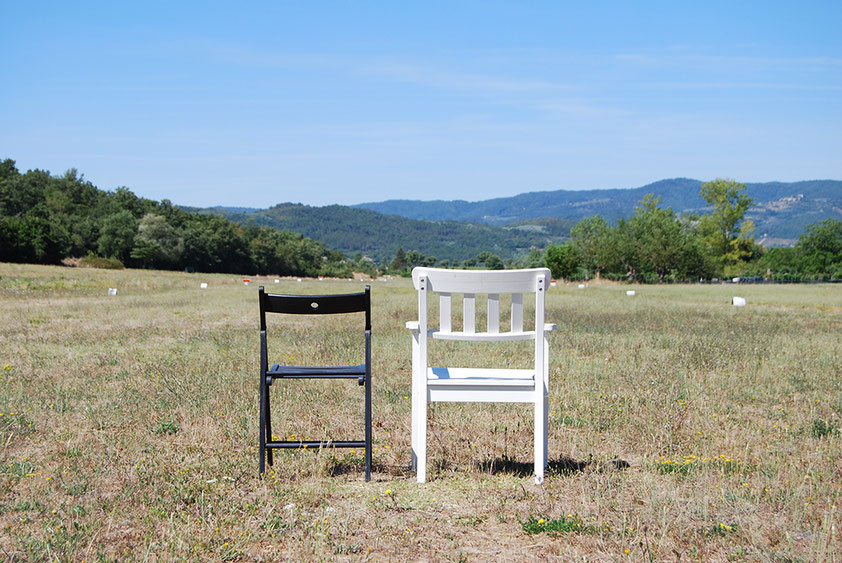 Walking the horizon. Runway Madeinfilandia, 2017, chairs found in the place on runway, Madeinfilandia (AR) 

Watching the horizon watching - table, detail, 2017, pencil on the table found in the place, Madeinfilandia (AR) 
---
18th April - 30th April 2017
Ermanno Cristini with Ilaria Bombelli, Giovanna Caliari, Ronny Faber Dahl, Al Fadhil, Giulio Lacchini, Wu Tianji, Bao Ting, Virginia Zanetti; text by Matteo Innocenti
È anche lungo la linea dell'orizzonte che si perdono i confini aprendosi all' idea di frontiera, lì dove si "fanno fronte" le diversità per nutrirsi dell'attrito della propria alterità.
Da questo punto di vista allora Camminare l'orizzonte vuole essere un laboratorio epistemologico per praticare, come si conviene all'arte, il territorio mobile dell'eterotopia. Ma in pari tempo asseconda il desiderio di sollevarsi in punta di piedi per osservare, con gli occhi chiusi, lo spazio necessario dell'utopia, forse l'unico luogo dove parlando altre lingue possiamo parlare la nostra.
La mostra è costruita nel confronto tra una decina di artisti in modo da sviluppare soprattutto l'idea di frontiera e toccando l'idea di orizzonte da diversi punti di vista.
L'ORIZZONTE E LA FRONTIERA, text by Matteo Innocenti
L'orizzonte e la frontiera. Matteo Innoc
Adobe Acrobat Document
28.3 KB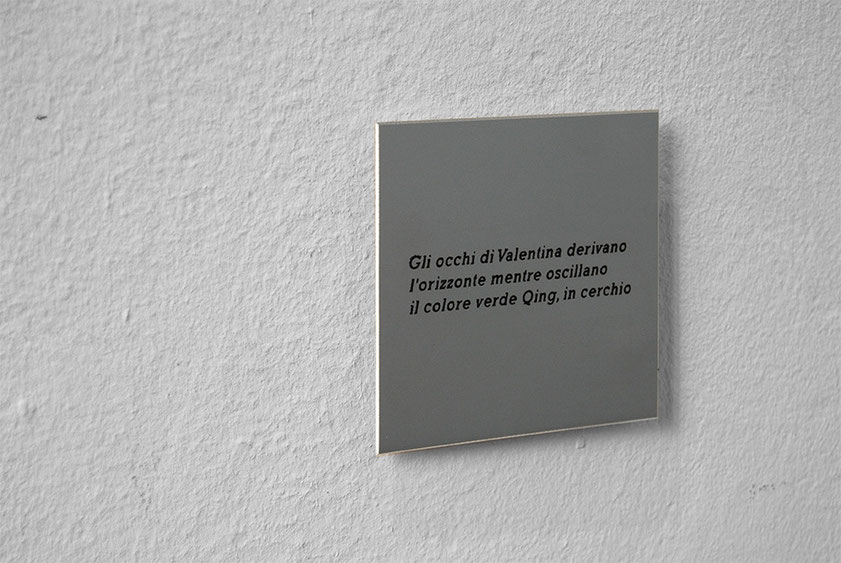 Sponde elastiche dello sguardo: deriva - Valentina, 2017, caption on aluminum, folder, presence
---
7th April - 26th May  2017
DoubleRoom Gallery, Trieste
Ermanno Cristini with Elena Bellantoni, Silvia Hell, Elisa Vladilo; text by Antonio Piroddi
In questa mostra il naufragio sta entro il doppio sfasato dello spazio di Double Room: due ambienti riflessi, quasi simili ma attraversati da una variazione dimensionale, come un caso di chiralità. La chiralità è un paradosso, un dato speculare non sovrapponibile a se stesso, che articola e problematizza l'immagine alimentandosi dello spazio "tra". Come un "colpo di reni", essa asseconda il desiderio di sollevarsi in punta di piedi per osservare, con gli occhi chiusi, i tratti di una visione possibile e forse il disegno di un'utopia necessaria, appunto un orizzonte.
La mostra è costruita come un doppio specchiato: 4 artisti con due opere a testa, o con un'opera doppia, in modo che la seconda sia il doppio sfasato della prima.
Il testo di un giovane filosofo attraversa il tutto.
L'ORIZZONTE E IL REGIME DEL DESIDERIO, text by Antonio Piroddi
L'orizzonte e il regime del desiderio.An
Adobe Acrobat Document
27.7 KB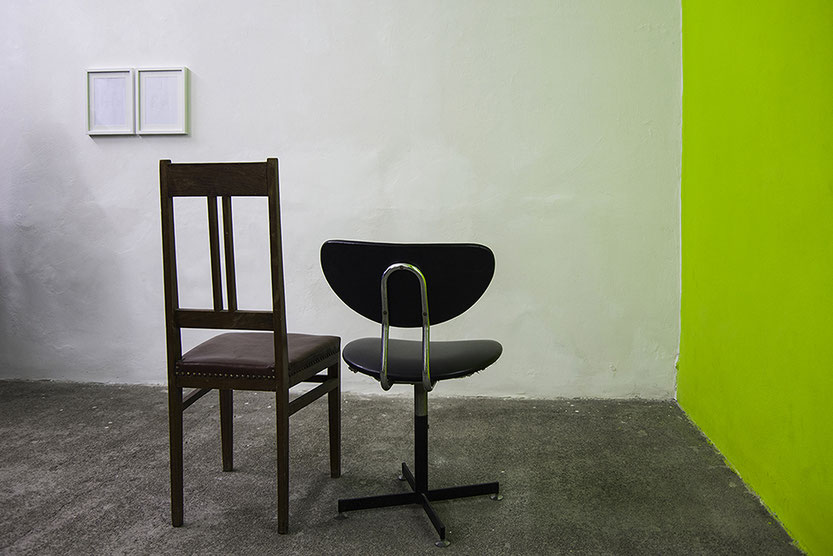 Walking the horizon. Chiralità, Trieste, 2017, chairs found on site, two drawings on paper with frames, ph. Walter Scherlich
---
Device to unroll the horizon, 2015, belt, Progetto Citta Ideale, Fabbrica del Vapore, Milan, 2015 curated by Andrea Lacarpia, Lorenzo Madaro, photo Luca Taverna,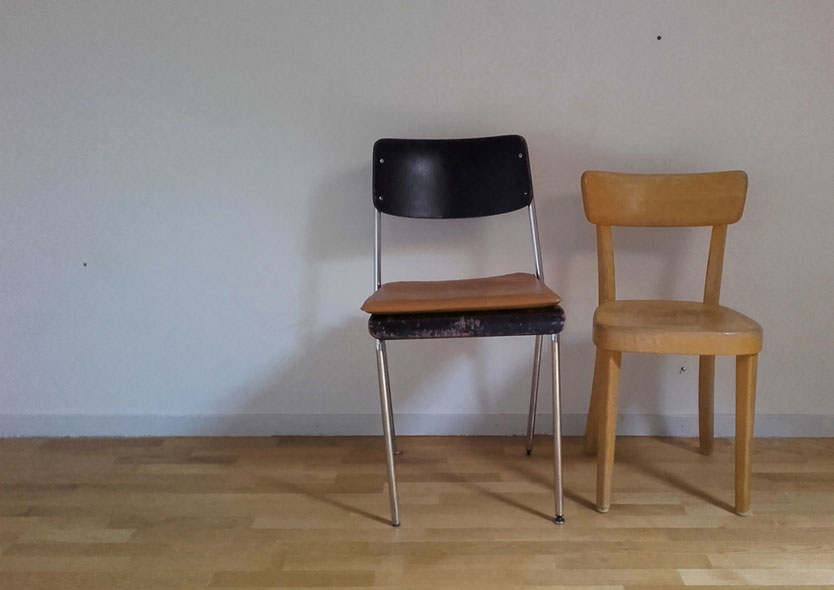 To be late fourth day, 2016, chairs found on site, Wohnen In Einer Verspätung, PROGR, Bern
Two places  to stopping time is one place to dialogue. (Neapolitan suggestion to observe the horizon)